For an artist who is well known for contributions to both photography and painting, the title of David Hockney's 1995 piece "Photography is Dead, Long Live Painting," can be a little misleading. Throughout his notable career Hockney has oscillated back and forth between the two mediums, and used his considerable talents to develop influential approaches to both disciplines. Far from shunning photography (on which he spent more than a decade of his career), Hockney uses "Photography is Dead, Long Live Painting" to highlight the differences he found after perfecting his approach to both.
Born in Bradford, England in 1937, Hockney developed in interest in art during his childhood, with a particular fondness for Picasso, Matisse and Fragonard. He attended the Bradford College of Art as well as the Royal College of Art in London where he was noted for his experimenting in abstract expressionism. After moving to Los Angeles in the 1960's, Hockney became fascinated with the many swimming pools he saw in the city, and produced a series of pool paintings that brought him to a larger audience.
During work on a painting of a living room in L.A., Hockney unintentionally discovered his passion for photography. He had taken several photos of the room for reference which he later stitched together so he would be able to work on the painting in his studio. The form created by the stitched paintings intrigued him so much that he began creating similar photo collages, and soon had transitioned completely into photography, lithography, and set and costume design.
Seeking a change in direction away from the realism of photography, Hockney later returned to painting in the 1980's. The Telegraph notes this change in style and how it ultimately led to "Photography is Dead, Long Live Painting."
He seems to have decided, instead of making paintings that looked like photographs, that he would do things in painting that photography couldn't do. For example, painting can take account of the fact that we have two eyes, not one lens, that we move around and look at things from different angles. In 1995, Hockney produced a photograph showing both a vase of flowers and a painting of a case of flowers; the painting was in two sections, one flat on the table, one upright. Of the two, it was the painting that stood out in a 'real' fashion.
"Photography is Dead, Long Live Painting" is one of David Hockney's most noted works and is available on consignment from Barnett Fine Art. The piece is an ink-jet print, signed and dated from 1995. The size is 43.3 inches by 34.25 inches. Please contact for more information.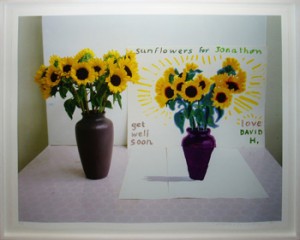 About Barnett Fine Art
Barnett Fine Art is located in New Orleans, Louisiana.  You can view a sample of the art and artists available by visiting our website. Several of the artists are local to the New Orleans area and they are extremely talented, creating exceptional artwork. As a private dealer, Patty Barnett of Barnett Fine Art can locate fine art limited edition works on paper and sculpture as well as original art. Additionally, our exclusive fine art consignment/resale service provides a platform to sell your artwork to support the diversity of your growing collection.
Follow us on: