With the holidays approaching, it's time to start thinking about gifts for friends and family. Art makes for a great holiday gift, one that the recipient can treasure forever. Below are a few works available from Barnett Fine Art. See the website for many other choices
Steel Column #2 ~ Dr. Arthur Silverman
It would be difficult to visit New Orleans without seeing at least one of Dr. Arthur Silverman's many publicly displaced sculptures. His most prominent may be the 60 foot sculpture at the corner of Poydras Street and Loyola Avenue, which was the first of more than 25 public commissions he would receive throughout the city. Featured is "Steel Column #2" a sculpture recently created from one of the maquettes made by Dr. Silverman
 "Steel Column #2"

18″ x 4 1/2″ x 3 1/2″
Steel
$3,200
Flutes Majestic, Fortune Candlestick ~ Erte
One of the most famous designers of the 20th century, Erte (born Romain de Tirtoff) was a defining member of the Art Deco Movement. Erte created dramatic and glamorous designs for over seventy years. His Art Deco stage sets and costume designs were featured in countless Parisian theater productions, and his covers and fashion drawings graced Harper's Bazaar magazine for more than 20 years. While he may be most famous for his graphics (after the resurgence in interest in Art Deco in the 1960s, Erte was also skilled in other mediums. Below are two "objects of Art", both available. from Barnett Fine Art
Flutes Majestic, crystal flutes in Erte's signature Art Deco style.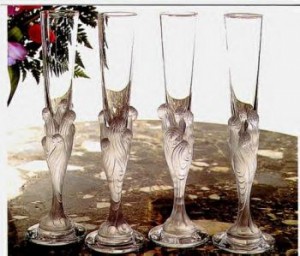 $250.00 each/$490 pair
—
Fortune Candlesticks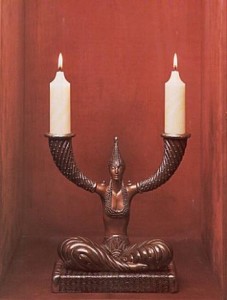 $4,500
Double Profiles ~ Peter Max
One of the pioneers of the psychedelic art movement, 76-year-old Peter Max is well known for his prolific output and work ethic. From the Cosmic '60s and onwards, Max has enjoyed immense popularity, and claims accolades from official artist of five Super Bowls to having his work grace both a Boeing 777 jet and a Norwegian cruise ship. A true creative spirit, the art of Max reflects his love of the creative process. Below, and on consignment is Max's "Double Profiles."
"Double Profiles"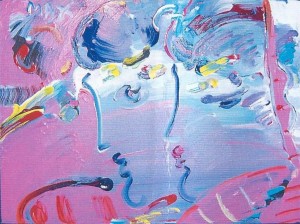 23 x 19 ¼"
Acrylic on Canvas
Original Artwork
$10,125
Chanukia, Star Mezuzah ~ Yankel Ginzburg
Born in Soviet Russia in 1945 to a Russian Orthodox mother and a Polish Jewish father, Yankel immigrated with his family to Israel in 1957, became the youngest student ever accepted to the Institute of Art, and in 1968 arrived in the U.S. Ginzburg is best known as a prolific silk-screen printer, which has been defined as post cubist and constructivist. A many-faceted artist, Ginzburg also works in other mediums, including sculpture, examples of which are shown below
"Chanukia"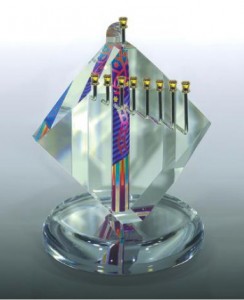 13"H
Limited Edition Acrylic Sculpture
$6200.
—
"Star Mezuzah"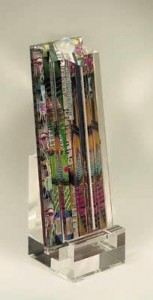 3.5″ x 3.5″ x 8.5″ High
Limited Edition Acrylic Sculpture
$2500
Singing Fish ~ Joan Miro
The late Joan Miro was highly influential in the development of the Surrealist movement, and was once described by Andre Breton, the founder of the movement, as "the most Surrealist of us all." A native of Barcelona, the city paid homage to Miro with the opening of the Fundacio Joan Miro modern art museum in 1975. Below is Miro's "Singing Fish" available on consigment.
"Singing Fish"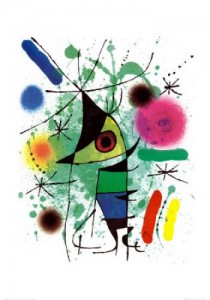 Framed Size 17" x 15"
Lithograph
1974
Edition: HC
$4,000
Tags: art gifts