"Of all the artists this city has produced, there are probably none more representative of its iconic mix of flamboyant elegance and earthy eccentricity than George Dureau."
This praise for George Dureau (from art critic D. Eric Bookhardt in Gambit) distills what many thought of New Orleans' son George Dureau into a poignant statement. A lifelong native of the city, George Dureau embodied the spirit of New Orleans in his life and his work in a way that few others can claim. He died on Monday morning April 7th at the age of 83.
Born in 1930 at the beginning of the Great Depression, Dureau grew up in Mid-City near Bayou St. John. After graduating with a degree in fine arts from LSU in 1952, he began architectural studies at Tulane. His art style is characterized with a focus on the male form as a sinewy, powerful object of the eye. He had a predilection for fantastic mythical figures, as well as the many colorful characters of his native city.
Initially focused on painting, Dureau stumbled onto photography, for which he would become well known, almost by accident. He began taking photos for use as studies for his paintings, but soon transitioned into photography as an art form. The results were fascinating. "If he had not been the most acute observer of the Crescent City psyche before, he soon became so." Dureau went to great lengths to humanize the objects of his photographs, many of whom would have been considered outcasts in society. Quoted in the Times-Picayune, Miranda Lash highlights this aspect of his work. "I think he had a way of depicting his subjects (including amputees and dwarves) that was very frank but very evocative at the same time…He did it in a way that made them seem powerful and heroic, which is not easy to do."
To get a glimpse of Dureau's art, one need only walk through New Orleans, where his works are featured in numerous public spaces and museums. Those interested in owning a piece of New Orleans history will love Dureau's oil painting Hercules and Anteaus. Available on consignment from Barnett Fine Art, this work features the mythical depiction of the male form for which Dureau was so well known.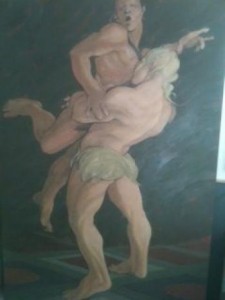 About Barnett Fine Art
Barnett Fine Art is located in New Orleans, Louisiana. You can view a sample of the art and artists available by visiting our website. Several of the artists are local to the New Orleans area and they are extremely talented, creating exceptional artwork. As a private dealer, Patty Barnett of Barnett Fine Art can locate fine art limited edition works on paper and sculpture as well as original art. Additionally, our exclusive fine art consignment/resale service provides a platform to sell your artwork to support the diversity of your growing collection. Follow us on Facebook, Twitter, Google+ and LinkedIn.