As one of the most instrumental figures in the American Pop Art movement, Tom Wesselmann was well-known for his contributions to one of the defining American art movements of the 20th century. Ironically, he was also somewhat of a reluctant bearer of this standard, and actually shirked it when asked about "Pop" art in interviews. While he saw the similarities in materials used by Pop artists, Wesselmann made it clear that his intention was unique from that of his peers, and viewed many interpretations of his work as missing the mark.
This statement rings particularly true for Wesselmann's works that ostensibly suggested erotic themes. Naturally, his Great American Nudes series fits this description, as does the Smokers series, which is one of his best known and most highly sought after. The Smokers series focuses on mouths, lips, hands, cigarettes, and smoke, often noted for their suggestive and erotic arrangements. However, in a 1984 interview, Wesselmann stated that the way his Smokers were perceived was often not quite the same as the intent with which he created them:
A lot of people refer to the mouth paintings — I think it's a cliche — as being erotic, because the smoke is erotic. You see, erotic to me is sex; erotic isn't convoluted curves to me or things like that. So I've always had that difference of opinion with a lot of people out there.
While eroticism is in the eye of the beholder, there's no denying the sheer size of many of his nudes and smokers. The New York Times puts these works into the context of their time and Wesselmann's many influences in an obituary from 2004:
Mr. Wesselmann's sleek, hard-edge, mostly pink silhouettes of reclining female torsos or big cutout lips exhaling clouds of cigarette smoke were distinguished from his fellow Pop artists by a sensuous heat and close-up intimacy that were one part sex and four parts astutely considered color and scale. The images were distant relatives of pinups, filtered through the billboard genre but with a formal infrastructure developed from careful attention to the paintings of de Kooning, Matisse and Mondrian. His goal was an image that was "aggressive," as he once put it, and that he experienced for the first time at the Museum of Modern Art in 1958 in front of a large canvas by the Abstract Expressionist Robert Motherwell.
Tom Wesselmann's Smokers series is one of his best known and most highly sought after. Barnett Fine Art has several Smokers series pieces available on consignment, including the 1973 "Study for Smoker" and 1976 "From Smoker #24."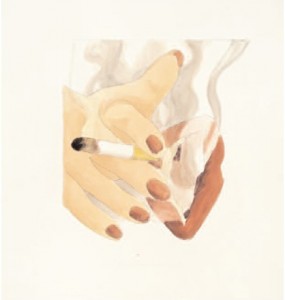 Smoker Study
1973
Thinned acrylic and pencil on museum board
11 & 5/8" x 10 & 5/8"
Signed and dated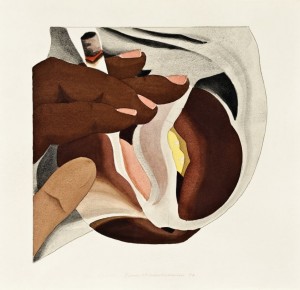 From Smoker #24
1976
Oil on canvas
11 ½" x 11 ½"
Signed and dated
—————
Follow us on:
Tags: Tom Wesselmann consignment art, Tom Wesselmann smokers