The field of art conservation is constantly evolving, thanks in no small part to ever-advancing technology that allows for greater, more detailed analysis of paintings. Using advanced imaging techniques, conservators can not only determine what a painting might have looked like when it was first completed, they can also use software to reconstruct the original and give fresh new perspectives on revered pieces.
In a recent conservation effort at the Art Institute of Chicago, a new analysis method uncovered a striking revelation in a Renoir that drastically alters one's perception of the painting. The piece, Madame Léon Clapisson, is a famous portrait by the renowned French Impressionist Pierre-Auguste Renoir. Completed in 1883, the 131-year-old painting was recently removed from its frame by the conservators at the Art Institute of Chicago, where it resides. They found that the part of the painting behind the frame was substantially brighter and more vivid, especially with regard to one particular pigment.
The pigment, an amalgamation of pink, orange, and red, was carmine lake, which is made from crushed cochineal insects that can be found on cactuses in Mexico and South America. Because carmine lake is an organic pigment, it is unable to be detected by traditional imaging techniques such as infrared and ultraviolet imaging. However, after finding this perfectly preserved pigment beneath the frame, the conservators used a new laser technique known as surface-enhanced Raman spectroscopy.
Using the light-scattering and wavelength-shifting properties of lasers, the imaging confirmed that the pigment was carmine lake. This also explained why it was hardly visible in the majority of the portrait: light exposure breaks down organic pigments relatively quickly. The conservators then used software to reconstruct what the painting would have looked like more than 130 years ago. The results, which can be seen here, are quite striking. From The New York Times: "The cool background of grays, blues and greens was instead a hotter swath of red and purple – 'in some ways, more daring, more adventurous,' said Gloria Groom, the museum's senior curator."
There are no plans to restore the painting to its original color, but it's fascinating to see the new life that conservation efforts can breathe into art. Photographs of the painting can be seen here and here. Below is Renoir's Portrait of the Actress Jeanne Samary on a commemorative postage stamp.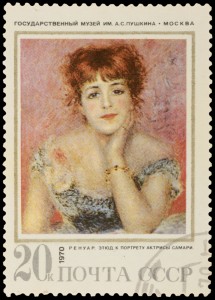 About Barnett Fine Art
Barnett Fine Art is located in New Orleans, Louisiana. You can view a sample of the art and artists available by visiting our website. Several of the artists are local to the New Orleans area and they are extremely talented, creating exceptional artwork. As a private dealer, Patty Barnett of Barnett Fine Art can locate fine art limited edition works on paper and sculpture as well as original art. Additionally, our exclusive fine art consignment/resale service provides a platform to sell your artwork to support the diversity of your growing collection. Follow us on Facebook, Twitter, Google+ and LinkedIn.
Tags: art restoration, Renoir