The 2015 New Orleans Jazz Fest begins this weekend, but there's still time to add to your Jazz Fest poster collection. The Jazz Fest posters are the most collected poster series in the world, and are highly prized not just for their content, but for the names of the artists behind them. Before you get this year's poster, browse the Barnett Fine Art collection of rare Jazz Fest posters from previous festivals. Many of these posters are among the most highly-coveted in the series, and the majority are signed by the artist. Read on for a few examples from our collection, and don't forget to read our blog from last week for more posters.
Jazz Fest Posters
2006 – "Rockin' To New Orleans: Fats Domino" – James Michalopoulos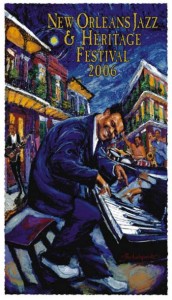 Artist James Michalopoulos' portrait of New Orleans legend Fats Domino joins his other Jazz Fest portraits of Dr. John (1998), Louis Armstrong (2001) and Mahalia Jackson (2003). Fats sold more than 65 million records over the course of his career, and had 35 Top-40 singles from 1955-1963 alone. The first poster produced after Hurricane Katrina in 2005, "Rockin' To New Orleans: Fats Domino" signaled the triumphant return of a New Orleans cultural institution.
This hard-to-find edition is signed by the artist.
$890
1985 – "Jazz Fest 1985" – Tore Wallin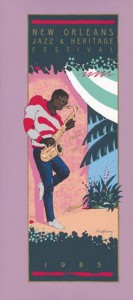 Artist Tore Wallin did a number of Jazz Fest works, this being the eleventh in the series. This was the first Jazz Fest poster to be translated from an original oil painting. "Before this 'marquets' of cut paper or solid areas of tempra colors detailed with chalk, pastel or pencil had been used," according to Art4Now.
This edition is signed and numbered 580/2500
$675
2002 – "Wynton Marsalis" – Paul Rogers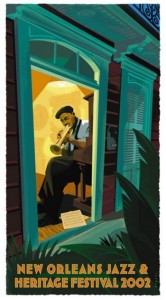 Paul Rogers' beautiful portrayal of Wynton Marsalis in silk-screen pigments has its roots in some of the original Jazz Fest posters Paul Rogers, who also did the Harry Connick Jr. poster, uses his mastery of Jazz Age visual art to pay tribute to the modern-day standard bearer of New Orleans Jazz in what is one of the most highly-coveted posters in the entire series.
$460
Call Patty Barnett for more details and pricing on the Jazz Fest Poster collection: 504.524.2922
Tags: Jazz Fest poster