The holidays are rapidly approaching, Chanukkah begins at sundown on November 27th, Christmas is on December 25th and Kwanzaa begins on December 26th. Less than two weeks from now you will be stuffed with stuffing and listening to your close family members talk about what they're thankful for. This holiday shopping season is six days shorter than last year's so it's best to get a head start on picking out the perfect gift for someone special in your life. If you know someone who appreciates fine art, there is no better time than now to purchase a new artwork for his or her home or office.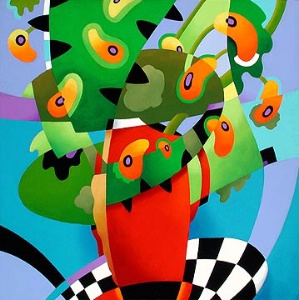 Celestial Love Affair – Rene LaLonde Celestial Love Affair is a hand-pulled  serigraph on  Gesso board by Canadian artist Rene LaLonde.  LaLonde uses bright and unusual colors to blend the styles of Cubism, Fauvism and Surrealism. His works will delight your senses. LaLonde's work is vivid and exciting yet at the same time warm and inviting, projecting  a sense of calmness and serenity. LaLonde focuses on everyday subjects and puts his own personal twist on them, similar to a Pop artist. This complex painting will complement your home or office and give your room a fresh and vibrant feel.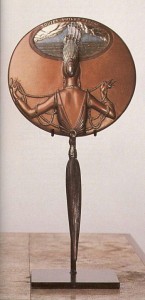 Erte Romain de Tirtoff was born in Russia in 1892.  At a young age he began designing clothes for his mother and later went to Paris to further his fashion design career.  It was in France that he became widely known as Erte, the French pronunciation for "R" "T" (Romain de Tirtoff).  While living in Paris, Erte designed for the stage, screen, opera, the cover of Harper's Bazaar and more. His work heavily influenced a new art movement that would be known as "Art Deco".  Erte became known as "The Father of Art Deco." Many of Erte's fashion and costume designs have been translated to limited edition works of art in nearly every medium. If you are looking for a gift or work of art to add to your home  consider crystal flutes, a hand or table mirror or other works from his Object of Art collection,  Erte's designs come to life in any room.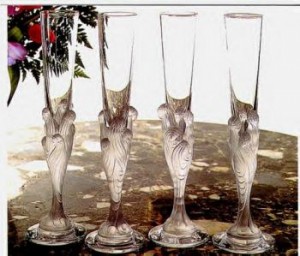 About Barnett Fine Art Barnett Fine Art is located in New Orleans, Louisiana. You can view a sample of the art and artists available by visiting our website.   Several of the   artists are local to the New Orleans area and they are extremely talented creating exceptional artwork. As a private dealer Patty Barnett of Barnett Fine Art can locate fine art limited edition works on paper and sculpture as well as original art.  Barnett Fine Art is your source for Erte, Alexandra Nechita, Yuroz and Master work on paper by Rembrandt and Picasso, as well as Pop Art by Roy Lichtenstein, James Gill, Tom Wesselmann, Gerald Laing, Alex Katz, and more.  Additionally, our exclusive fine art consignment/resale service provides a platform to sell your artwork to support the diversity of your growing collection. Follow us on Facebook, Twitter, Google+ and LinkedIn