One of the most eminent artists of the modern sphere, Picasso redefined art in the 20th century using methods that even today are considered groundbreaking and masterful. His many styles including the Blue, Rose, African, and Cubism periods, poured forth from a mind which never ceased to find a new angle from which to approach his work. Cubism in particular, which he pioneered along with French artist Georges Braque, was perhaps Picasso's finest achievement, putting on full display his ability to drastically alter the viewer's perspective. Though the radical nature of Cubism was met with hesitation by some, it is widely considered to be one of the most important art movements of the 20th century, the reach of which extended into several other fields including architecture, literature, and music.
Barnett Fine Art has numerous Picasso pieces available, including several new limited editions in various styles and mediums. The following pieces are all signed by the artist. Access to most other limited editions and original paintings can also be provided by request.
Femme nue a la Jambe Pliee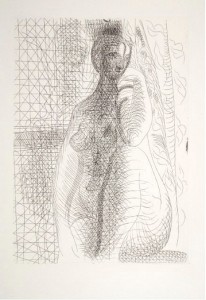 This 12" x 8" etching was done in 1931 and signed in pencil. Having completed the Blue, Rose, African, and Cubist phases, Picasso was now on to Classicism and Surrealism, and had been declared "one of ours" by the Surrealist writer André Breton in 1925. The Spanish Civil War and Picasso's war-torn Guernica were not far off, but here in the early 1930's we see a calm study of the female figure in the form of an etching. A technique which has its roots in the early 16th century, etchings are completed by using a sharp etching needle to carve lines in a metal plate. The plate is then dipped in acid, which dissolves the exposed metal and magnifies these lines. The plate is then inked and cleaned so that the only ink remaining is in the carved lines. Using a printing press, the ink from the plate is transferred to paper to make a print.
Portraits Imaginaires 12.3.69 II, with text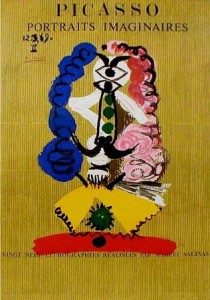 This large color lithograph was completed in 1969 and signed in the plate by the artist. Even at his advanced age in 1969, Picasso was still creating art that is today revered for its foresight in stylistic movements in the 20th century. As one of the artists who brought back lithography as an artistic medium in the 20th century, Picasso is known for the many lithographs he created during the later years of his life. Somewhat similar to etching, lithography involves the use of a limestone plate upon which an oil-based medium is used to create an image. The plate is covered with a solution of gum arabic and nitric acid, which makes any part of the plate not covered by the oil-based medium unable to accept an oil-based ink. The medium is then rubbed off, leaving a template which will accept the ink. Coated with ink, the plate is run through a press with paper and the ink is transferred, creating a lithograph.
Homme debout avec masque devant femme assise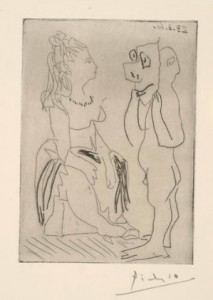 This original limited edition print was done in dry point in 1960 and signed in pencil in the lower right corner. Similar to etching, dry point involves the use of a tool to create cuts in a plate. In dry point, these cuts create different sized burrs based on the angle at which the needle is held. The larger the burr, the more ink is held, which allows the artist to use different angles to create different concentrations of ink on the plate. Because the printing process smooths down the burrs created, a plate can only be used a handful of times before it will cease to create an impression. It is for this reason that dry points are almost always limited edition pieces.
About Barnett Fine Art
Barnett Fine Art is located in New Orleans, Louisiana.  You can view a sample of the art and artists available by visiting our website. Several of the artists are local to the New Orleans area and they are extremely talented, creating exceptional artwork. As a private dealer, Patty Barnett of Barnett Fine Art can locate fine art limited edition works on paper and sculpture as well as original art. Additionally, our exclusive fine art consignment/resale service provides a platform to sell your artwork to support the diversity of your growing collection.
Follow us on:
Source