George Rodrigue was an amazing local artist best known for his Blue Dog paintings. He was born in New Iberia, Louisiana after moving away for a little bit for college, he returned to Louisiana in the 1960's. Rodrigue passed away on December 14th 2013 and his talents will be missed but he lives on through his artwork.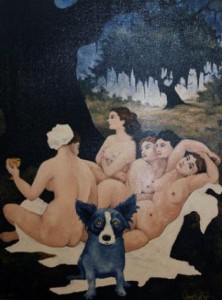 In the 1990's Rodrigue began painting artworks featuring a Blue Dog. The Blue Dog is based on a Cajun werewolf/dog legend called 'loup-garou' and his paintings transformed the legend into a pop icon. Over the years, Rodrigue painted many things with the Blue Dog embedded into the artwork. While the first Blue Dog painting was based off of an evil spirit, over the years, the features in the dog changed and he went from a scary mythical creature, to a blue dog with a more kind face that no longer .
Each painting tells a story and has unique background information.  The painting pictured Right Place, Wrong Time is a good example.   According to Rodrigue's wife this imagine marked a change in the Blue Dog series.  Rodrigue began painting Tiffany with people rather than alone.  His nudes were very controversial this work was no exception.
"Considering the trouble George had with the public regarding his nudes early on, it's ironic that among his most popular Blue Dog paintings are his recreations of famous classical figurative works. The painting Right Place, Wrong Time (1991, 48×36) is based on The Turkish Bath by Jean Auguste Dominique Ingres, 1862."
If you are interested in purchasing one of George Rodrigue's famous Blue Dog paintings, contact Barnett Fine Art at 504-524-2922.
About Barnett Fine Art
Barnett Fine Art is located in New Orleans, Louisiana. You can view a sample of the art and artists available by visiting our website.   Several of the artists are local to the New Orleans area and they are extremely talented creating exceptional artwork. As a private dealer Patty Barnett of Barnett Fine Art can locate fine art limited edition works on paper and sculpture as well as original art.  Barnett Fine Art is your source for Erte, Alexandra Nechita, Yuroz and Master work on paper by Rembrandt and Picasso, as well as Pop Art by Roy Lichtenstein, James Gill, Tom Wesselmann, Gerald Laing, Alex Katz, and more.  Additionally, our exclusive fine art consignment/resale service provides a platform to sell your artwork to support the diversity of your growing collection. Follow us on Facebook, Twitter, Google+ and LinkedIn.
Tags: Barnett Fine Art, blue dog, Consignment Services, fine art, George Rodrigue, New Orleans