This Valentine's Day, surprise your loved one with a valuable work of fine art! Barnett Fine Art has many attractive works that appeal to the various discerning tastes of any fine art collector. Below is a selection of works that are especially adept at displaying romantic love.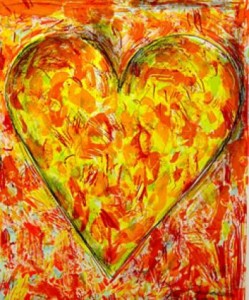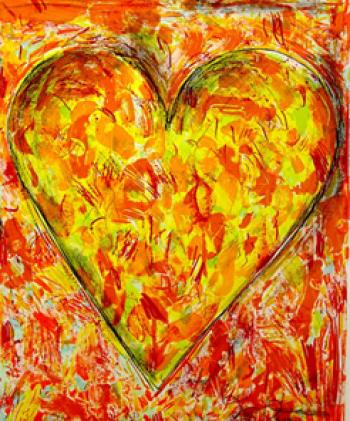 Sunflower
Jim Dine
Lithograph in 10 Colors
2005
25.5 " x 19.2 "
Jim Dine was an expert at making pop art that was flashy yet also personal. Dine often incorporated imagery into his works that were of a personal nature to him, like robes, hands, tools, and, as above, hearts. So, here we see a deeply personal work of art. One heart dominates the space of the page. The colors are derived from the bright and happy yellows and oranges of sunflowers combined with fluid lines of movement. The imagery evokes the intense passion and happiness of an individual in love. This is a great work to symbolize the intense yet personal feeling of being in a passionate relationship. If there is someone in your life with whom you are intensely in love, consider presenting them with this charming signed print.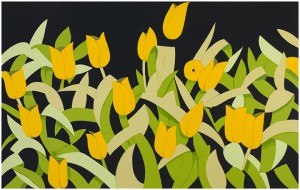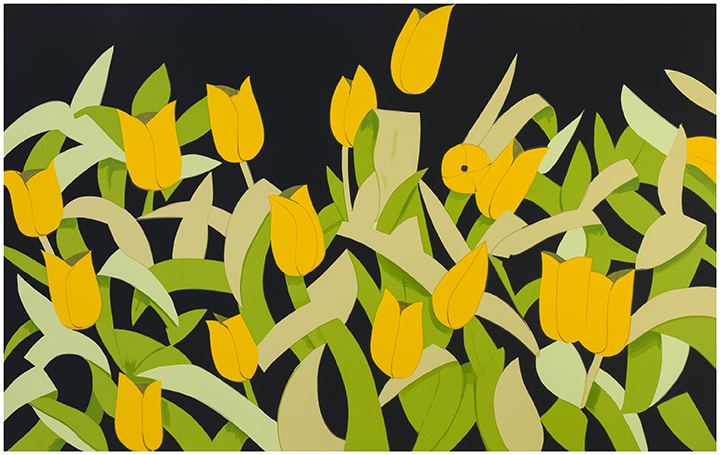 Yellow Tulips
Alex Katz
15-color silkscreen on 4-ply museum board
2014
48″ x 77″
"Yellow Tulips" by Alex Katz is a simple yet striking presentation of a beautiful array of tulips. Tulips are often seen budding from the ground in the spring. When they finally bloom, they are colorful, delicate, and gorgeous. This work aptly captures the tenuous nature of a budding relationship. The construction of the piece is likewise delicate and refined: the painting is composed over a delicate silkscreen mounted on museum board. All in all, this delightful work is a great way to add color to a new relationship.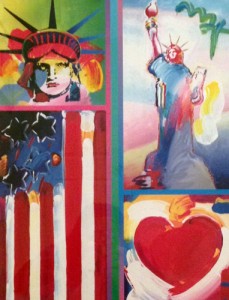 Two Liberties, Flag, and Heart
Peter Max
mixed media, acrylic over lithograph
19" x 15″
$3525.00
Peter Max's "Two Liberties, Flag, and Heart" is a fitting gift for the American patriot in your life. Peter Max was an active artist of the psychedelic movement in the 60s. This was a time when politics played a crucial role in everyday American life. During Max's childhood, his family fled the Nazi's in Berlin, moving to Shanghai, China, then to Haifa, Israel, then to Paris, France, finally settling in Brooklyn, New York. Max shows an unwavering support of his adopted country in his many paintings that display American imagery and hearts, representing a love of his American home. If you know a fine art collector who has a deep love of the United States, then this work would make a wonderful addition to their collection.
Keep up with our blog for the latest art news.
Questions? Call Patty Barnett at 504.524.2922
Like us on Facebook and follow us on Twitter and share with your friends.
Tags: Alex Katz, fine art, Jim Dine, Peter Max, valentine's day