James Gill was born in 1934 in Texas and was a protagonist in the "Pop Art" movement which hit the art world in the fifties and sixties. Pop art became an exciting new form of artistic expression. Of the many renowned pop artists of this movement, few remain alive. However, James Gill, a notable pop artist, has recently emerged from over 30 years of isolation.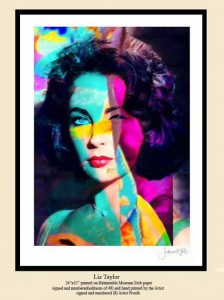 Gill's artwork differed from that of his contemporaries because his artwork reflects reflected "qualities of a contemporary consciousness as well as classical tradition" as opposed to popular cultural imagery.
Gill's artwork is available for viewing in museums around the country such as the Museum of Modern Art or the Whitney in New York, as well as The Smithsonian Institute in Washington, DC or the Art Institute of Chicago and more! Not only can his artwork be viewed, it can be purchased from Barnett Fine Art call Patty at (504) 524-2922 to discuss the available artwork.
In addition to his original paintings, James Gill has produced several series of limited edition prints that are available from Barnett Fine Art.  He is most noted for his "Marilyn Collection." Gill focused on Marilyn Monroe from the early days of his career making her a pop icon even before Andy Warhol began painting her. His Pop Icon series is another noted collection.
Be sure to check out all of James Gill's artwork here!
About Barnett Fine Art
Barnett Fine Art is located in New Orleans, Louisiana. You can view a sample of the art and artists available by visiting our website.   Several of the   artists are local to the New Orleans area and they are extremely talented creating exceptional artwork. As a private dealer Patty Barnett of Barnett Fine Art can locate fine art limited edition works on paper and sculpture as well as original art.  Barnett Fine Art is your source for Erte, Alexandra Nechita, Yuroz and Master work on paper by Rembrandt and Picasso, as well as Pop Art by Roy Lichtenstein, James Gill, Tom Wesselmann, Gerald Laing, Alex Katz, and more.  Additionally, our exclusive fine art consignment/resale service provides a platform to sell your artwork to support the diversity of your growing collection. Follow us on Facebook, Twitter, Google+ and LinkedIn.
Tags: Barnett Fine Art, fine art, James Gill, New Orleans