At Barnett Fine Art, we are pleased to offer two works that cater especially to animal-themed fine art enthusiasts. George Rodrigue's "Right Place, Wrong Time" and Jim Tweedy's "Charlie the Cat" are whimsical pieces that feature similar themes with a distinctly different approach. Learn more about these New Orleans artists and their newly available works in today's blog, below.
New Work from Barnett Fine Art: Blue Dogs and Red Cats
George Rodrigue: "Right Place, Wrong Time"
After the death of his dog Tiffany in 1984, New Orleans artist George Rodrigue began to include images of a blue dog with soulful yellow eyes in his paintings. The Blue Dog quickly became an iconic symbol of Rodrigue's style and became an instantly recognizable and central feature of his work. Rodrigue's sense of whimsy is evident by the silly situations that the Blue Dog is often found in. "Right Place, Wrong Time," currently available through Barnett Fine Art, perfectly captures this whimsy with its intimate portrait of four nude women (based on The Turkish Bath by Jean Auguste Dominique Ingres, 1862) that is disrupted by a Blue Dog placed prominently in the foreground, eyes locked with the viewer. Rodrigue's sense of humor and palpable love for his canine companion has caught the heart of many collectors and Blue Dog has been featured in national ad campaigns as well as promotional materials for the New Orleans Jazz Festival.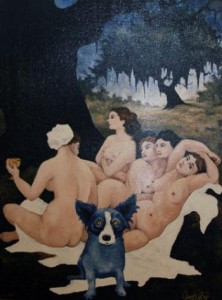 Canvas size 40×30
Direct Image Transfer on Canvas
1992
Limited Edition but not a numbered series.
Asking Price: $15,000.00
Jim Tweedy: "Charlie the Cat"
Inspired by Rodrigue's Blue Dog, fellow New Orleans artist Jim Tweedy decided on a whim that a portrait of a red cat would be the perfect response to the ubiquitous canine. After creating a portrait of his cat, Charlie, he hung the painting in the window of his gallery and was stunned when he was quickly offered $3,000 for a larger version of the piece. Since then, he has gone on to create over 1,000 versions of Red Charlie. Barnett Fine Art is pleased to offer a newly available "Charlie the Cat."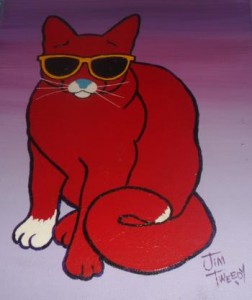 7 3/4″ x 10″
Acrylic on canvas
1992
There is a Remarque on the back of the painting, drawn and signed by the artist.
Asking Price: $1300.00
Collectors of New Orleans artists and lovers of both animals and fine art will enjoy these two works currently offered by Barnett Fine Art. Right Place Wrong Time and Charlie the Cat provide the perfect opportunity to marry these interests and inject some fun as well. The pieces are an excellent representation of the similarities as well as differences between these New Orleans artists.
Keep up with our blog for the latest art news.
Questions? Call Patty Barnett at 504.524.2922
Like us on Facebook and follow us on Twitter.
Tags: blue dog, Charlie the Cat, George Rodrigue, Jim Tweedy, red cat, Right Place Wrong Time