Peter Max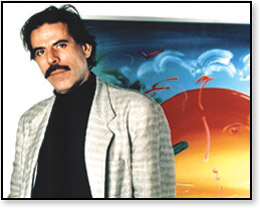 Peter Max is a pop culture icon, and one of the most famous of living artists… His work is bold, as are his colors and encompasses almost every phase of American culture.
Max has painted for six U.S. Presidents and his art is on display in Presidential Libraries and in U.S. Embassies. He has painted Lady Liberty annually since America's Bicentennial. In 2000 a collage of his Liberties decorated over 145 million Verizon phone books
Peter has been named an official artist of the 2006 U.S. Olympic Team at the Winter Olympics in Turin, Italy. He has also been Official Artist of 5 Super Bowls, World Cup USA, The World Series, The U.S. Open, The Indy 500, The NYC Marathon and The Kentucky Derby.
His art installations include an amazing 600-ft stage for the Woodstock Music Festival, a giant mural for the Winter Olympics and 10-ft guitars for the Rock & Roll Hall of Fame.
His work spanned many artist periods including realism, collage and graphic arts and has inspired generations.